Who Are Flower Pots Day Nursery?

At Flower Pots Day Nursery the team have strived towards creating the best possible environment for your child, in each of the settings we maintain positive learning environments which include, spacious inside areas and engaging garden spaces. All of our rooms are designed around the age of the children attending within those areas and are fully equipped with the resources and equipment that benefits your child from their very first day with us at nursery.
Our garden areas are fitted out with a range of equipment to support not only your child's physical development but all other areas of our curriculum.
We understand the importance of play for our children and understand that when children are given a range of opportunities they can achieve anything they set their minds too. Therefore as part of our team, we have qualified educators as well as staff working towards their level 3 in childcare to provide care and various learning opportunities to support each child through the early year's foundation stage. We aim to ensure that each child who passes through our doors has the best start at life and is prepped for school and other adventures when they leave us.
The team at Flower Pots Day Nursery know the importance of building strong relationships with the children within the nursery as well as building on the partnerships with parents, right from the very beginning when you first view the nursery.
Our team welcome all parents and children to the setting and we use an online learning journal to assist in our communication with you as parents, keeping you updated with what your child has been doing throughout their day at Flower Pots.
We have developed our own Flower Pots curriculum which incorporates the Early Years Foundation Stage, this is led by our well-trained teachers and educators and the vision is clear to all – " building on children's individual strengths and passions, encouraging them to grow at their own pace."
Our Mission

● To welcome every child and to provide them with the opportunity to develop within a secure and caring environment
● To ensure that all children feel included, secure, and valued.
● To provide a learning experience within the Early Years Foundation Stage Framework, appropriate to the needs of each child to discover and nurture their individual personality
● To ensure the nursery is fully equipped with modern, well-maintained resources in line with the needs of the children
● To work closely with the children's families
● To provide a safe, healthy and happy environment in which adults and children can work, play and learn together
● To encourage children to have a positive attitude and respect for both themselves and other people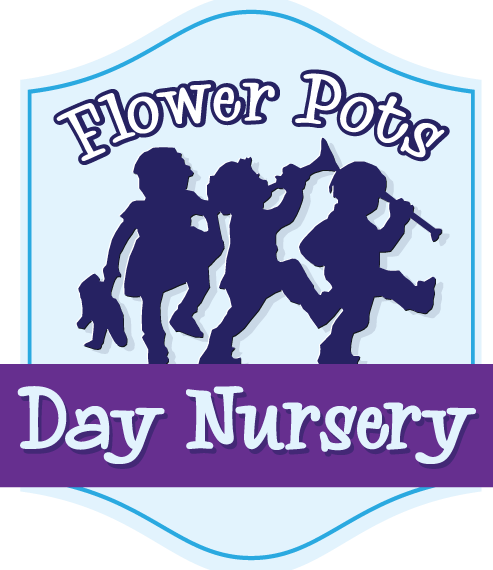 Settling In Process

At Flower Pots Day nursery we believe settling in sessions are so important not only for your child, but also for you as a parent, and for us as a nursery. They really support everyone through this transitioning period and allow yourself and your child to see different aspects of nursery life.
Session One

The first settle is for half an hour, you will stay with your child and spend time
with them playing with the other children.  You will also be introduced to your child's key worker who will be your main point of contact and will communicate with you regarding your child's day at the nursery and their general progression.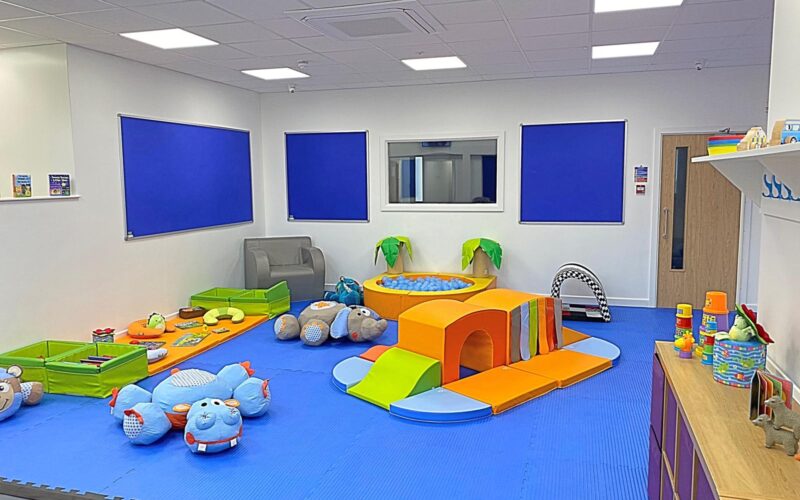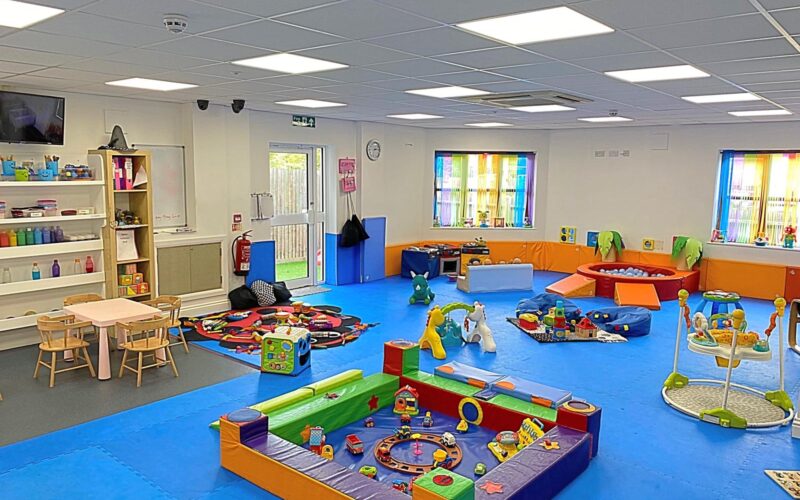 Session Two

The second settle is for forty-five minutes. This is where you usually bring your child in and stay with them for 10 to 15 minutes to settle them with the staff in the room.
Then you will leave for the rest of the settling in to see how they get on, on their own.
Session Three

The third settle is for two hours, you bring your child in and leave them straight away (if you feel comfortable with this, if not you are always welcome to stay with them until they are happy playing or socializing with the other children).
We usually recommend that parents leave their child for longer on the third session as this is a gradual process and leaving your child for a bit longer each time will help them to become more familiar with the nursery surroundings, staff, and children and to know that you are coming back!
Settling in sessions are a good time to talk to your child's key worker about your
child's routine and to discuss any individual needs your child may have.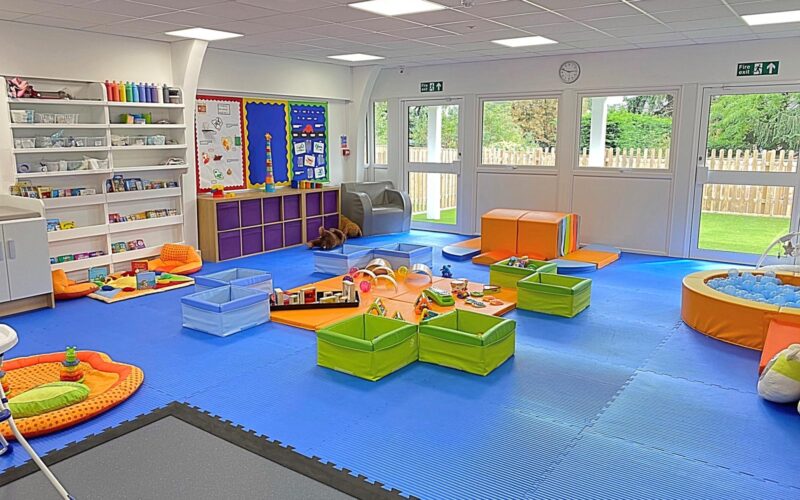 Why Choose Flower Pots Day Nursery?

"Planting the seeds in childcare"
Great Teachers

At Flower Pots Day Nursery we've gathered an expert team of experienced early years educators who put your children at the centre of all that we do.
Our experienced educators initiate conversation and thought to inspire children with new knowledge and ideas.
They further child development by following each individual child's likes and interests to ensure they receive the very best education.
There is also a direct link between the quality of education that our educators receive and the quality of education they provide. Because of this, we support our staff with their personal and professional development to ensure the very best for your children.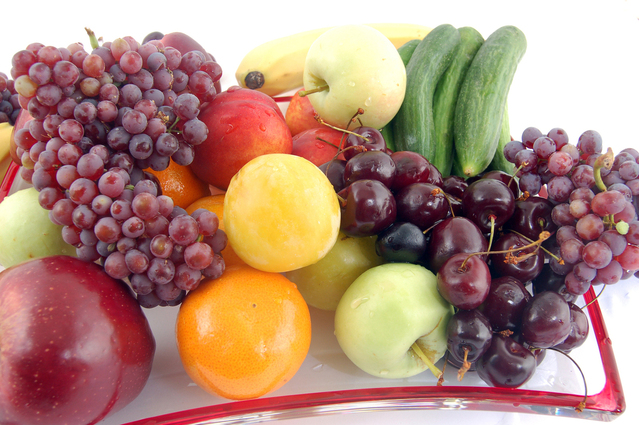 Delicious Meals

At Flower Pots Day Nursery we provide healthy and nutritious meals for your children on a daily basis, our various menus are freshly prepared by our qualified chef at our hub kitchen in Hemel Hempstead.
Our bespoke menus have been developed purely for Flower Pots Day Nursery by our chef, in partnership with our directors to ensure that we are offering the highest quality of meals at all times.
The meals provided throughout the day include – breakfast, lunch, high tea as well as nutritional snacks. We have twenty-one different menus that are rotated through the year to ensure the children are experiencing a variety of different foods throughout their time at Flower Pots.
Each main meal also comes with a vegetarian option and all dietary requirements, including allergens, are safely adhered to at all times, this is overseen by the chef within the kitchen as well as the manager and kitchen assistant within each nursery.
Flower Pots Day nursery also believe that is important for the children to understand what they are eating, therefore during meal times there is a discussion about healthy and unhealthy foods, as well as where the food may have come from, this is important when we are celebrating a cultural event.
Our Staff will always be sat with the children during meal times and each child is given the opportunity to be independent during meal times, for example, babies are encouraged with finger foods whereas our children in our classrooms are learning about knife safety.
In each of our nurseries, the daily menu is on display for parents to see throughout the day. If your child has any special dietary needs based on medical/allergy conditions, religious or personal preferences, please just let us know and we will be happy to discuss this with you.
Excellent Programmes

We offer the best opportunities for learning by ensuring that play is at our core.
Following an In the Moment curriculum, we deliver the best programs through play-based experiences designed to encourage our children to explore and flourish.
We design our programs to be bespoke to each child following their likes, needs, and interests.
Our educators strive to equip all children with the necessary skills, knowledge, and range of physical experiences to motivate them to lead lifelong active, healthy lifestyles.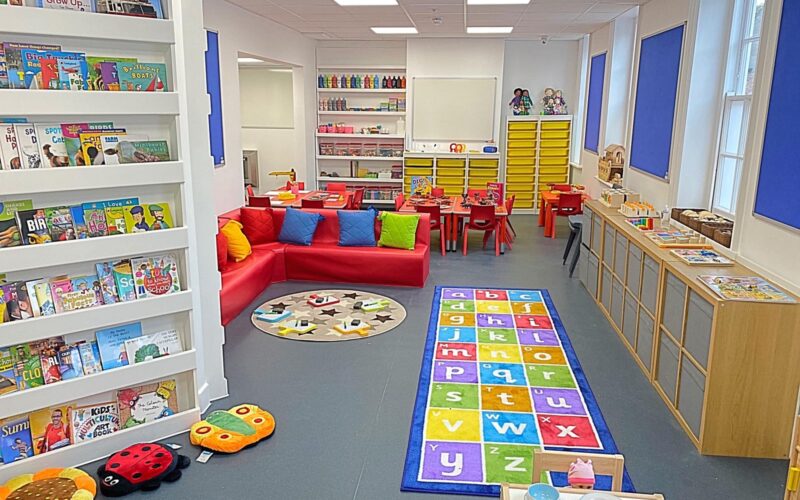 Great Enviroments

We pride ourselves in having state of the art environments for our children to
develop in.
Carefully planned and purposely built rooms create the perfect environment for your child to be in.
We have dedicated areas to suit all your child's needs with top of the range resources to assist their learning and development. Not forgetting plenty of opportunities to have fun in a safe, secure, and stimulating way.
Book a Viewing