Adeyfield Nursery is situated on Adeyfield Road in a beautiful converted house. We are a short walk from the local shops, park and adventure playground.
In our setting we can accommodate 80 children a day which occupies 5 rooms, 4 are situated within the main building and we have a purpose-built classroom at the back of the nursery grounds.
To the rear of the nursery, we have a large garden which is covered in artificial grass which means the children are able to access it in all weather conditions.
We have a purpose-built 'Flower Pots Village' in which the staff create role play areas for the children to explore and play in. These can range from reading areas, home corners, construction zones, hairdressers and many other themes.
The children spend a minimum of two 30-minute sessions a day outdoors where they engage in free play, physical activities and adult-focused play.
See our full Ofsted Report –
HERE
Adeyfield Nursery Rooms

Baby Room
Birth - 16 Months
Our Baby room caters for children aged birth to eighteen months. At this early age, the specific needs of each child are recognised and managed within a very flexible structure. Every effort is made to create an environment of comfort and individual attention.
Weather allowing, we take the babies outside every day where we have floor mats, push along cars and climbing activities. Our baby room has its own ball pit, soft play climbing furniture and more.
There is also a separate sleep room and an adjoining dining room just for our babies.
We work with parents to support the child's routine from home and also to help settle them into our nursery routine.
Tweenie Room
16 Months - 2 Years
Our Tweenie children are aged approximately eighteen months to two years. This room expands over two areas which allow children to socialise, explore and engage in different environments and situations.
Our French doors into the garden allow free flow, giving the children endless opportunities to learn and explore at their own wish. Taking the indoors outside allows the children independence of choice.
The children will have the option of tabletop and floor activities with a mix of adult-led and child-initiated play.  In Tweenie's, the children have the opportunity to potty train as we have child height toilets and/or potties for your child's preference.
Toddler Room
2 Years - 2 Years 7 Months
Our Toddler room is for children from two years until they are two years and ten months. Within the Toddler room, we offer opportunities to gain confidence through independent activities; self-serving their meals and drinks, choosing activities of their own interests and helping to dress themselves.
Children will start to have more focused activities such as carrying out fine motor activities, looking at books, shapes and everyday objects within the environment. Within this room children are encouraged to potty train (all children develop at different stages so we work with parents for when the child is ready).
PreSchool
2 Years 7 Months - 3 Years 6 months
Our preschool room is for ages two years ten months to three years six months. Within this room, the children are getting ready to move on to the classroom so this room starts to create more structure for the children, covering more focused activities with a purpose such as; pencil control, sorting and grouping, exploring how things work in detail and letter and number recognition.
The children have opportunities for child-led play and the staff incorporates their likes and interests in order to carry out engaged and stimulating activities.
Classroom
3 Years 6 Months - 5 Years
Our classroom is for ages three years six months to five years. Within this room, it is their final phase before going to school. There is a lot more focus on getting them ready for school and this is where we focus deeper on their recognition of sounds, letters, rhyming words and grouping.
The children throughout the day carry out child-led activities and play and have their own two-story playhouse to continue their language and imagination. The classroom has its own courtyard where children are able to engage in planting and growing, it is self-contained so encourages full independence.
The children also have the opportunity to use the interactive tablet filled with lots of educational games too.
Adeyfield Nursery Garden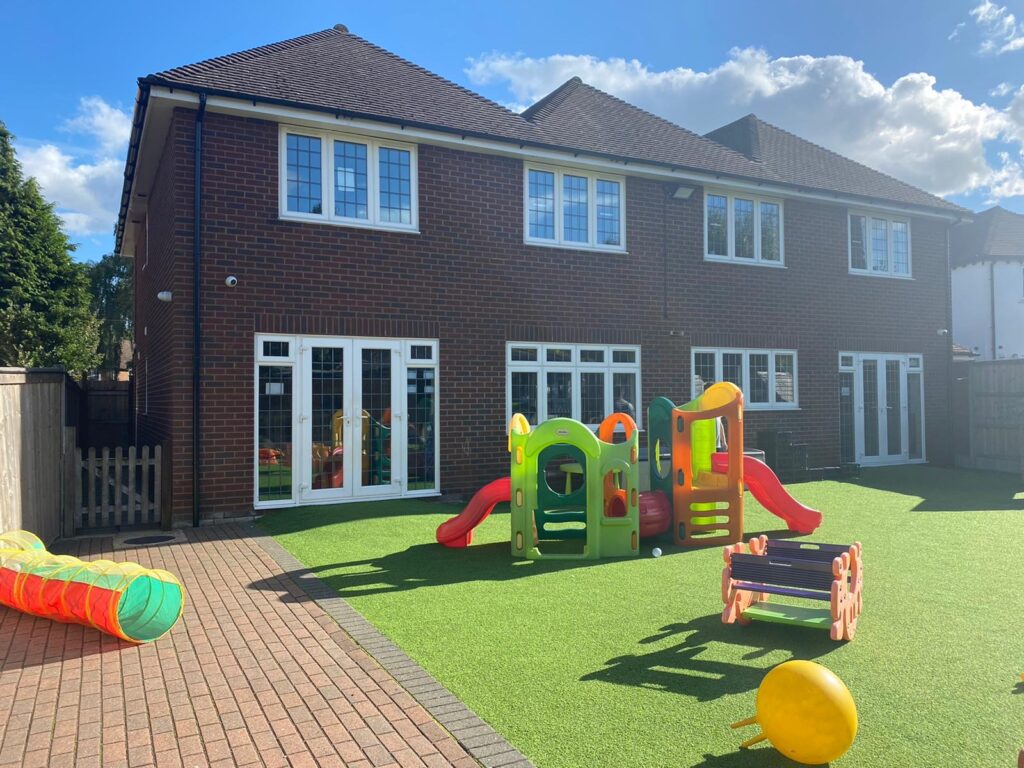 We have a few options in Adeyfield nursery. It's a 10 hour day which starts at 08:00 and ends at 18:00 which can be a full day or we also offer half days (5 hour morning or 5 hour afternoon).
There is also the option for an earlier start at 07.30 and then also the option for a later finish at 18.30.
We accept 3-year-old funding.
Click below to see our fee's with a full breakdown depending on the number of days you prefer.
If you would like to see the Adeyfield nursery you can book a viewing or if you have any questions, please click the link below and we'll get back to you
We are always available on 'Instagram' and 'Facebook' to answer any queries you may have.