Prestwood Nursery opened in 2018, The nursery consists of four different rooms across two floors, these are our baby room, toddlers, pre-school and classroom.
We have a large outside area at Prestwood which has an astroturf lawn, where we have our very own Flower Pots Village, consisting of different role play areas, that are changed frequently throughout the year. We also have a built-in car track where the children love racing in their cars or on their bikes.
The outside area allows the children to have lots of fun as well as take part in learning activities. In the garden, we also have space for the children to take part in planting and growing.
We have a large car park to the rear of our nursery for our parents to use during drop-off and collection times.
We are a full-time day nursery as we offer childcare between the hours of 8 am – 6 pm – Monday – Friday, we also provide extra sessions of 7:30-8:00 am and 6:00-6:30 if required. We are located in Prestwood, which is a great area for people who live and work in Prestwood as well as parents who commute into Wycombe.
Like all of our nurseries, the children's safety is our top priority. We have full perimeter CCTV coverage as well as internal cameras in all our play areas.
See our full Ofsted Report – HERE
Baby Room
Birth - 18 Months
In our baby room, we have babies from birth up to 18 months old. This room is lovely and bright with all of the walls padded to help prevent any accidents, especially when they first start walking.
We have a lovely soft play car, which all of the children can enjoy. This helps to promote physical development as it encourages the children to pull themselves up and they can then start to cruise around. Once they become more confident, they start to climb onto the seat and give us all the royal wave!
We have lots of fun in our baby room including playing peek a boo in the orange tunnels! We can also take the play mats away and get lots of messy mats out for the babies to get involved in sensory play. 
The baby room will follow your routine from home when your child first starts, our baby sleep room has several cots which have clean sheets and blankets every single time they are used. We also have a lullaby CD running or white noise while the children are sleeping.
Toddler Room
18 Months - 2 Years 6 Months
We have lots of tables with many activities set out throughout the day. We encourage lots of mark making by using crayons, paint, and chalks. The children also enjoy participating in lots of arts and crafts.
The toddler's book corner is very popular with the children! It is filled with much different fun and interesting books. We have circle time which includes singing songs, reading books as a group and we also start to learn some simple flashcards.
We have a brightly coloured, soft play train the toddlers love to play with daily.
The children stay in this room for all of their meals and snacks. They all sit around the tables together while we promote good sitting and independent feeding using a spoon and fork.
Pre-School
2 Years 6 months - 3 Years 6 Months
Our preschool room is for children from 2 years 6 months until 3 years 3 months. In this room, they like to be independent by choosing what they want to play with or what they would like to do during the nursery.
We let the children choose which arts and crafts they want to do by opening the cupboard and letting them find what they want.
The children in preschool love to engage in role-play and start to act out scenarios they have been in or seen. They really enjoy dressing up and taking part. One day they are a doctor, the next, a cat.
The independence continues in our preschool room. The children have unlimited access to a water fountain so they can have a drink themselves or fill up their own named cup. We also have sensor taps, so the children can wash their own hands before any meal and snack time and also after any messy activity.
Classroom
3 Years 6 months - 5 Years
This is a lovely bright room to be in, every window you look out of, you can see beautiful nature which encourages the children's learning.
The children are in this room from 3 years to 3 months until they leave us and move on to school. We have lots of technology in the classroom including computers, an interactive table and a lightbox. The interactive table is full of fun, educational games and stories that the children benefit greatly from.
We have a separate arts and crafts area, which is full of many resources which the children can use to make anything they like, for example, robots, boats or monsters! They can all be in this area busy crafting and making!
While upstairs, we make lots of progress using phonics. This is started when the children first move upstairs, and each child gradually moves up to the next stage when they are ready.
During our circle times, we like to discuss what they have been doing at the weekends or non-nursery days. We encourage all parents to upload pictures/videos so the children can watch them with their friends. This helps them to remember what they have done, gain confidence and helps expand their vocabulary.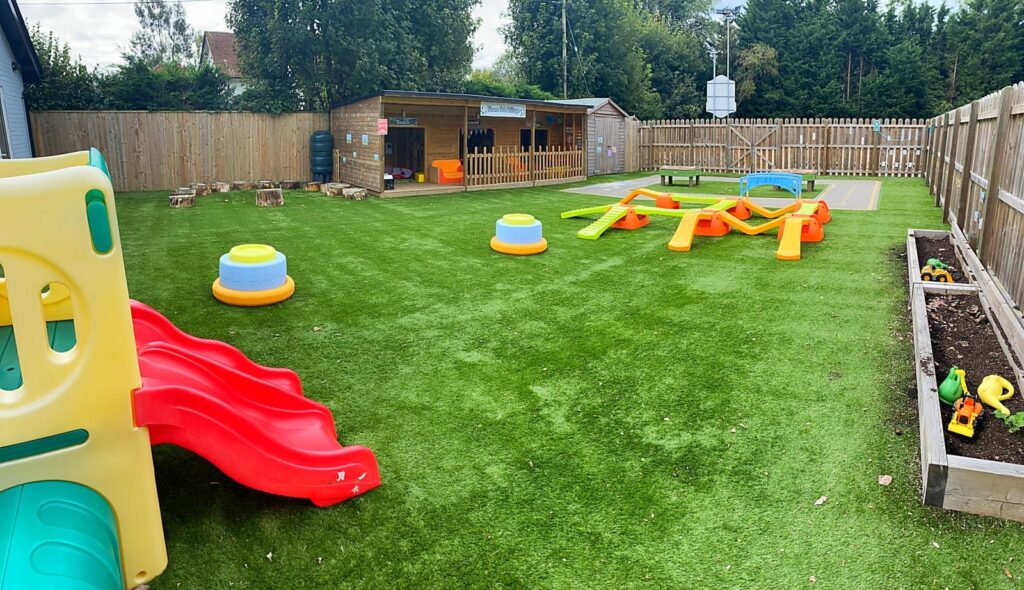 Everyone loves the garden, and we all take it in turns to go outside. When the babies go outside, we take the playmats out so the "non-walkers" can have somewhere to sit and take in the environment.
The other rooms enjoy using the bikes, cars, and trikes around the purpose-built road/track. They also enjoy using the chalks to draw zebra crossings so the children can start to learn stop and go!
The children like to seek challenge when they play on the balancing beams or tree trunks with an adult nearby for support.
We have racing games down the slide to see who can reach the bottom first!
To the side of the garden, we also have a "vegetable/plant patch" the children enjoy taking it in turns to water the plants and they all watch them grow. Once the vegetables have grown the children will pick these and try them for their snacks! The children have grown potatoes, carrots, and tomatoes just to name a few!
We also have our "Flowerpots Village" which is a purpose-built village including three separate areas. These are used for role-playing and the themes of each are changed regularly to keep the children interested. They can vary from a writing hut, vets, a restaurant or a construction area!
We have a few options with our nursery in Prestwood. It's a 10 hour day which starts at 08:00 and ends at 18:00 which can be a full day or we also offer half days (5 hour morning or 5 hour afternoon).
There is also the option for an earlier start at 07.30 and then also the option for a later finish at 18.30.
We accept 3-year-old funding.
Click below to see our fee's with a full breakdown depending on the number of days you prefer.
If you would like to book a viewing or have a question then please click below and we'll get back to you
We are always available on 'Instagram' and 'Facebook' to answer any queries you may have.